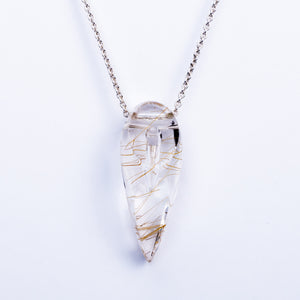 Bahia Gold Pendule AromaJewel
This hand sculpted Bahia Gold Rutilated Quartz Aromajewel has thin golden needles of rutilation through out the crystal, a sleek and elegantly cut design. Rutilated Quartz is known to enhance clarity, strength and energy, it also empowers the light of the soul. 
This pendule like all Aromajewels has a small cavity for holding a few drops of a pure blend of essential oil perfume to enhance it's healing powers.