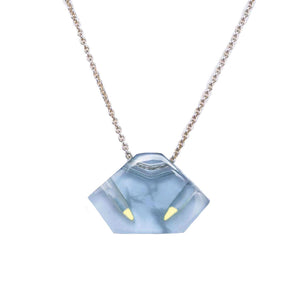 Aquamarine Trapeze AromaJewel
This hand carved Aquamarine Aromajewel is a high quality richly saturated aqua with natural inclusions. Aquamarine is a stone of courage and self expression, it helps you to clear communication blocks. Aqua is also used for protection and to calm fears. 
This Trapeze like all Aromajewels has a small cavity for holding a few drops of a pure blend of essential oil perfume to enhance it's healing powers, this design has an extra cavity so that you can put two different fragrances or essential oils for additional effect.