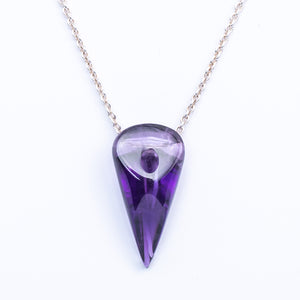 Amethyst Pendule AromaJewel
This Amethyst Aromajewel is hand carved with a deep hue of purple. Amethyst is known to be a stone not only for protection but helps to purify the mind of negative thoughts that cause stress and anxiety, especially related to work. Amethyst is also known to attract abundance. 
This pendule like all Aromajewels has a small cavity for holding a few drops of a pure blend of essential oil perfume to enhance it's healing powers.